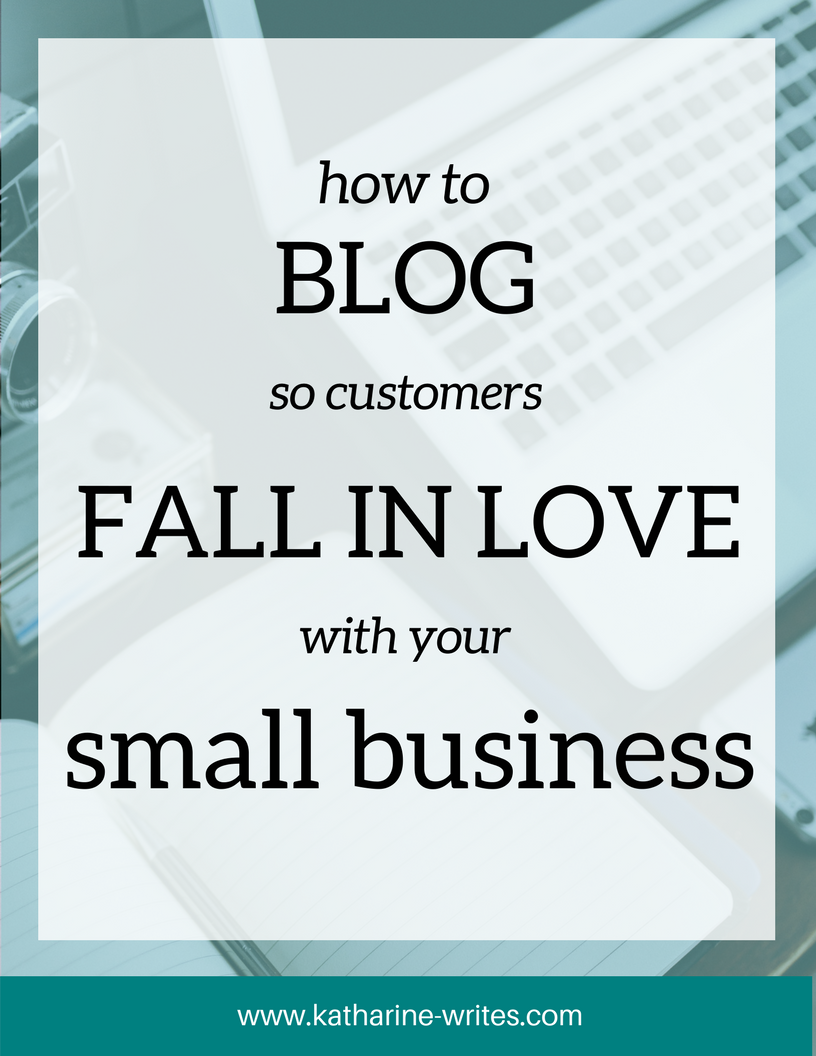 Blogging can do a lot for your small business.
It boosts the SEO on your website, which gives you a higher rank on Google searches.
It lets you share news and new products.
It may even help you get picked up by major industry websites or media outlets.
All that is important, because content marketing is one of the best ways for a business to get found online.
But first and foremost, your small business blog should do one thing: connect with your customers. It should create a relationship.
Because good blogging can help your customers absolutely fall in love with your small business.
---
---
Think of your blog like you'd think of a date.
A good date makes you seem interesting, relatable, intriguing, friendly, and put-together.
A good blog should do the same thing for your business.
---
---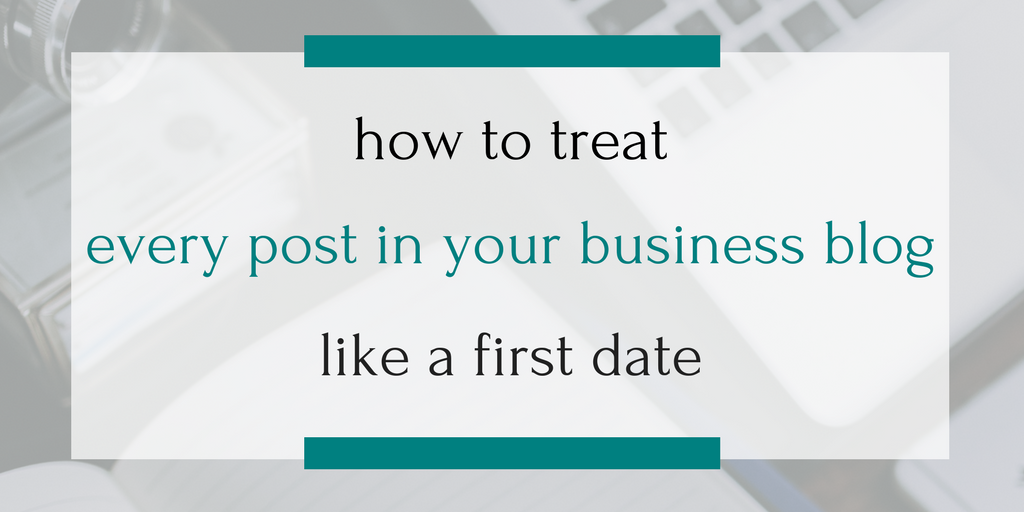 ---
---
1. Use images
Does that seem almost too simple?
The fact is, having visuals to go along with your text instantly makes your business blog feel more relatable to readers.
If you have photos of your actual business or products to share, those should definitely make an appearance. Pictures of events, brick and mortar stores, your employees, the physical items you sell… all those are awesome visuals.
So are graphics (like you see here), infographics, or (in a pinch) interesting and relevant stock photography.
No matter what type of image you choose, having a professional-looking visual component of your blog post will help your blog posts seem more interesting and personal, which in turn makes your business seem more interesting and personal.
And your customers are going to love your interesting, personal small business.
2. Care about what you're writing
If we go back to our metaphor, imagine a date where the other person didn't seem at all invested in what was going on.
They don't care what you say, they aren't paying attention to what they say, and in general it seems like they can't wait for things to wrap up so they can go home for a Netflix binge?
That would be a pretty crummy date, right?
Well, a blog post that feels that way is pretty crummy too.
If you don't care about what you're writing — if you're just going through the motions because you have to have a blog post up tomorrow and need to write something — your audience is going to be able to tell.
In fact, it's better to take a week, or even two, off from blogging until you have something to share that you really care about.
There's a lot of information out there on the internet. No one wants to waste their time reading something that has no heart or hook.
BUT if you care about what you're writing — if it makes you feel passionate and inspired — if you just can't wait to share it with your readers — well, they're going to be able to tell.
When you care, your customers are going to care, too.
3. Have a personality
When you're blogging for business, you want to sound professional. Unfortunately, for many brands, this "professional" voice comes across as bland, dull, and lacking all life.
But just like how no one's going to fall in love with a date who has no personality… well, no one's going to fall in love with a blog with no personality either.
The trick is to balance a professional tone and presentation with your brand's genuine voice.
You can maintain a professional tone by:
carefully selecting your subject matter
writing in a style that is appropriate for your industry
carefully thinking through your content
writing well and editing thoroughly
Then, you can add in personality by treating a blog as a conversation between you and your ideal customer.
Ask yourself, how would I talk to a customer in person?
You wouldn't…
be a robot
try to sound like every other business out there
be boring
You would…
have a conversation that is relatable and engaging
stay focused on the subject at hand while speaking in a way that sets your customer at ease
use language and anecdotes that reflect the experience you want your customer to have
Part of what sets your business apart from the competition is the unique voice of your brand. When you let that voice come through in your blog posts, you help your customers get to know you.
You might also like… How to Outsource Your Blog Posts Without Losing Your Voice
And it's much easier to fall in love with a brand once you feel like you know them!
4. Know what matters to customers
Like a great date, a great interaction with a customer leaves them thinking, "This company gets me! How did I survive without them?"
That's how a great blog post should feel too.
When it comes to marketing, this idea has various names: pain points, struggle points, primary concern, and many more. But it all comes down to the same thing:
Knowing what matters to your customers.
If you are writing well,you're customers will be impressed. If you are writing well about something your customers care about, they're going to want to stick around for more.
The more they stick around, the better they get to know you and your business.
The better customer know your business, the more likely they are to trust, admire, depend on, and eventually love you. 
And if you're not sure how to find out what matters to your customers… you can always ask! That's one of the beauties of blogging. You can speak directly to your customers and ask for their comments and input. You never know what you'll find out!
5. Share (but don't overshare)
Of course, you don't want to only ask questions.
As much as that's a great conversational tactic on a date, it's frustrating to feel like you're telling your life story but not learning anything about the other person in return.
Your customers are far more likely to feel close to your business, if they know something about what got you there, what matters to you, and what struggles you've overcome along the way.
Were you looking for safe bath products for your baby? Could you not find any you trusted, so you decided to make your own? Did you then start selling them to help other parents? Tell your customers!
Were you struggling with chronic illness? Did learning about nutrition help you manage your health problems and become a marathoner? Did you go back to school to become a certified nutritionist and help other people struggling with chronic illness? Tell your customers!
Did you have to pull a specific line of pants from production? Was it because the zipper wasn't working out quite right and some customers were unhappy? Do you want to perfect the design before you start offering that pant again? You guessed it, tell your customers!
When you help your customers learn about the story behind your brand or understand the decisions you are making, they are more like to respect, admire, remember, and love what you do.
Of course, there's a difference between sharing and oversharing. For example…
You don't want to tell customers about personnel problems you are having and how they affected your bottom line last month.
You 

don't

want to share that you are being audited by the IRS.
You don't want to drop a political rant in the middle of your posts on healthy communication (though you can turn that rant into a post on how to communicate about politics in healthy ways!).
Sharing gets personal and creates a connection. Oversharing gets too personal and makes the other person question whether they want to stick around.
If you're not sure whether something is oversharing or not, as yourself, "Would I tell this story on a first date?"
6

. Show your excitement
I'm guessing you started your small business because you are deeply invested in and excited about the work you are doing, right?
After all, running a business and working for yourself takes a lot of work. No one does it without being 200% committed to what they're trying to achieve.
But even if you love the work you do and the difference you can make in your customers' lives, there's a lot about the day to day of running a business that can put a damper on that enthusiasm
Blogging, unfortunately, can be one of them.
Believe me, I get it! You have a great idea for a blog post… but then you have to find time to research it… write it… edit it… format it… find an image… All while doing the actual work of running your business!
Blogging can end up feeling like one more thing you have to get done, rather than something you enjoy doing. And so you end up either not getting it done or, worse, you do a lackluster job.
And believe me, when readers can tell you're doing a lackluster job, they'll be clicking away with no chance to actually figure out what your business can do for them.
No matter what topic you're writing on for your blog post, customers want to see your enthusiasm.
They want to feel the love you have for your business.
They want to share your anticipation for new products and services.
Playing it cool doesn't ever really work on a first date, after all. And it doesn't really work in business blogging either.
No one runs a small business without feeling excited about what they've chosen to do.
You want every blog post you publish to show that excitement so customers can start getting excited too. Because once customers get excited about something, they start to care about it.
And once they care, they can start to fall in love.
I want to hear from you! Do you have a business blog?
How do you use it to show your love for your business and your customers?
Want to improve your blogging, content marketing, and more? Click below to access my library of FREE resources for small business owners!