I've got something to share with you that has me incredibly excited!
At the end of April, I mentioned that I was working on a somewhat secret project that was close to being done. It took me a little longer than I expected to get it all together, but now…
I'm thrilled to give you the chance to download my FREE report:
Hot, Warm & Cold: Three Email Templates That Will Help You Land Clients.
Emailing Clients is Scary
When I first started freelancing, I was terrified of emailing clients. I would sit there an stare at my computer screen for hours, wondering and doubting myself.
         Will anyone even read this?
         Do I sound unprofessional?
         Am I saying all the wrong things?
Have you ever sat there, trying to put together an email to a client and wondering the same thing?
If the answer is yes, this free report is for you!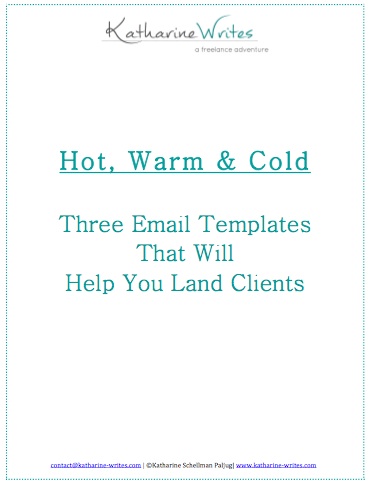 Learn How to Email Potential Clients With Confidence
I've put together templates of three common types of emails you will be sending: the hot email, sent to a prospect that has contacted you to ask for your help; the warm email, sent to a prospect you have a connection with; and (most terrifying of all) the cold email, sent to a prospect who doesn't yet know you.
This isn't just a bullet point list, or a paragraph with a few suggestions. This report has three full templates based on emails I've used to land thousands of dollars worth of work.
And not only have I included three templates, I've also broken down:
why each email works
how you can use it
what to be careful of when emailing clients
Starting my freelance adventure was scary and sometimes very difficult.
But it is also rewarding, fulfilling, and utterly liberating.
If you're ready to start your own freelance adventure, make sure you're doing it with the tools you need to actually seek out clients and land work. Download Hot, Warm & Cold: Three Email Templates That Will Help You Land Clients today and you'll be ready to get started!