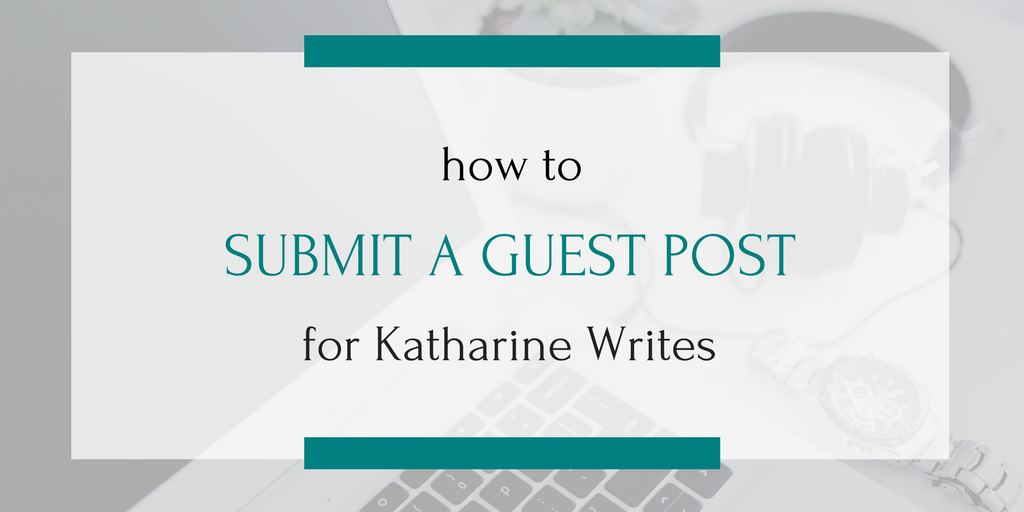 Are you interested in seeing your blog post on Katharine Writes?
I occasionally publish guest writers, and you could be one of them if…
You know a thing or two about running a business.
I primarily publish posts by small business owners, marketing experts, entrepreneurs, and writers who specialize in these topics.
This is because I want to make sure that you know my audience and can speak directly to their concerns, challenges, and interests.
You have something new and exciting to say.
There's a lot of content other there on the internet — and a lot of content already on this site! For guest posts, I'm looking for perspective and insight that I can't get anywhere else.
I'm interested in guest posts that fit the audience of this website: small business owners, freelancers, and entrepreneurs who are using the online space to build and grow their business. (If you're not sure what I publish here, take a look back through the archives.)
I'm looking for…
helpful, actionable advice based on your experience of what does and doesn't work.
something substantial — anything under 800 words probably doesn't have enough depth to really help out my readers.
good grammar, well-used headings, and a personal tone.
a variety of perspectives.
You don't have to be a professional writer to submit a guest post — but you do have to write well! If you're a small business owner with experience to share, I want to hear from you.
I'm not looking for…
how to be a freelance writer, how to open a bakery (or anything else about how to get started in a specific niche).
how to make $100k in six months (real advice, please).
plagiarism (all-original is a must).
generic advice (there should be a concrete take away or action steps for every post).
Sound like you? Here's how to pitch.
If you're interested in guest posting for Katharine Writes, send an email to contact [at] katharine-writes.com that contains:
a brief introduction to who you are and why you have something to share (if I already know you or we've worked together, you can skip this part)
a proposed headline and description of your main points (you can suggest more than one idea, but please no more than three)
links to 1-3 writing samples (this could be your own blog, your business blog, or somewhere else you've been published)
a subject line that says "KW Guest Post Query"
If I think your proposed idea is a good fit, I'll let you know and we'll start discussing specifics! If I like your writing and think you've got something interesting to say, but your idea isn't quite right for my audience, I may ask you to send another suggestion or two.
If you don't follow these guidelines, you'll probably get a canned response that directs you right back to this page. So make the best use of both our time and follow those (easy, straightforward, very standard) four points up there.
(Oh, and please don't send any attachments or tell me your post is already written. I don't open attachments from emails I don't know, and if your post is already done, well, it wasn't written for my audience, was it?)
Never pitched a guest post before and need a little help getting started?
I lay it all out for you here, including a template you are welcome to follow when emailing me or anyone else.
I'm looking forward to seeing all your great proposals!